COME FALL IN LOVE WITH SHEPHERDSTOWN!
Imagine a town with majestic views set high atop the Potomac River. Take a slow stroll down the main street to discover gorgeous historic buildings, boutique shops filled with unique treasures, dozens of deliciously crafted menus and a friendly population of smiling faces.
The folks who love Shepherdstown, whether living there or just in for a visit, love to laugh, love music and theater; love their dogs and they do love a parade!
A perfectly paradoxical town deeply rooted in history with a contemporary hip vibe, Shepherdstown is made up of many locally sourced ingredients. Locally grown music of many different flavors can be found many an evening. In the warmer months, you can source local products at the outdoor Shepherdstown Farmer's Market. Hiking, biking, fishing, boating and sightseeing are some of the outdoor activities that can be enjoyed in this special small town.
I recently sat down with Marianne Davis, Director of the Shepherdstown Visitors Center to find out more about the town and here are some of our questions and answers:
Tara: What makes this town special or different?
Marianne: The thing about this town is that whatever interest or topic you bring to it, people will embrace. For instance, if you want to build a half size replica of the Rumsian Experiment, you will find other people who not only want to, but have the skills to and are interested and dedicated to that topic.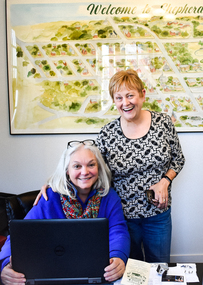 This is a town that more than any other is held up on the shoulders of volunteers. Those volunteers bring their own qualities, their own experiences and their own interest to their work, enriching everything they do.
There are no bars on expression in this town. It is a town that is accepting of all types, all walks of life.
Tara: Change is inevitable. What do you see in the evolution of Shepherdstown?
Marianne: To focus on visitors will result in so many ancillary benefits to our businesses and our town. Our visitors cherish the fact that we are deeply in touch with our history. I frequently say that this is the town that preservation actually preserved. Our commitment to our history allows us to be successful in economic development through tourism, where others may have less success. One of Jefferson Counties largest industries is tourism. Our foundations are strong.
So, rather than focusing on adding or changing to our town, our goal is to make Shepherdstown more of itself and to highlight what we are.
About 40 percent of our visitors come to our town for history of some kind, so one of the things we hope to do is to do a much better job of telling people not only the history, but also the untold stories of Shepherdstown. For instance, according to the secretary of the Army, Shepherdstown was the birthplace of the U.S. Army. Another interesting historic fact is that there were more people living in Shepherdstown in 1776 than there are now. Facts such as these will enrich the story we have to tell about our history.
Another interesting new development in Shepherdstown derived from the Shepherdstown Mysteries Walk; a spooky evening walking tour visiting stories of the past. There is a growing interest in the spirit world in our historic town brought about by a cable show called Ghosts of Shepherdstown. People originally come to town to go ghost hunting or talk about the spirit world, but then they fall in love with the town and come back. (For more information: (https://www.destinationamerica.com/tv-shows/ghosts-of-shepherdstown/ https://www.facebook.com/Shepherdstown-Mysteries-Walk-285413794997416/ http://www.shepherdstownmysterieswalk.com/ )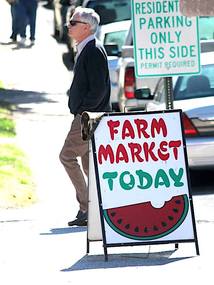 We are also clearly a dog town. In order to focus on who we are, we created Dog Fest. We want to focus on current visitors and bring new visitors by focusing on history, cultural events, outdoor recreation, etc. (https://www.facebook.com/ShepherdstownDogFest/)
Shepherdstown is an excellent home base for those visiting our area, for instance, if you are interested in a spirits (the drinkable kind), there is Black Draft bourbon distillery and Bloomery Sweetshine distillery within 15 miles. (http://blackdraftdistillery.com/, http://bloomerysweetshine.com/) There are many wineries within driving distance as well. Or perhaps you have an interest in the history of the Revolutionary War? The Visitors Center can help curate other tour locations and sites to visit based on those interests.
Tara: If I were a matchmaker, who would be the perfect person you would want to attract to Shepherdstown?
Marianne: I would say the perfect person is someone who would like to laugh and to learn. Someone who would dive in and do; that would identify the assets that exist in our wonderful town, focus on them and then help enhance them. Shepherdstown has an authentic sense of place and it's people do too!
See below for a quick guide to Shepherdstown businesses, shopping, places to eat and more!
If you are interested in finding out more check out: shepherdstown.info or discoveritallwv.com. Thanks to the Shepherdstown Visitor's Center and the Jefferson County Convention & Visitors Bureau for providing great information.
Tara Sanders Lowe, Realtor tarasanderslowe@gmail.com 304-283-8300
THE ARTS
Badgerhound Studio & Gallery-Art gallery and workshops, original art, handcrafted items and prints for sale. www.badgerhoundgallery.com
Black Box Theater-Quality local plays. www.blackboxartscenter.org
Bridge Gallery-Art gallery and framing shop. www.bridgegalleryandframing.com
Contemporary American Theater Festival-A professional theater festival showcasing six contemporary American plays. www.catf.org
Ricco Gallery-Original designed artwork and jewelry. Studio and store. www.riccogallery.com
Shepherdstown Opera House-Music and film venue. www.operahouselive.com
Shepherdstown Film Festival Society-A colation of interested individuals and organizations dedicated to bringing quality films to Shepherdstown. www.shepherdstownfilmsociety.org
Shepherdstown Music and Dance-Dance, music, concerts and special events. www.smad.us
SHOPPING
Admiral Analog's Audio Assortment-New & used vinyl, video games, turntables & stereo equipment, cassettes, CDs, music t-shirts, stickers, patches, and buttons. www.facebook.com/AdmiralAnalog/
Christian Caine-A premier designer of original, European influenced www.jewelry.christiancaine.com/
Community Garden Market-Organic and natural grocery store, with fresh seasonal organic and natural fruits and vegetables. www.facebook.com/CGMshepherdstown/
Dickinson & Wait Craft Gallery-Crafts, sculptures, furniture, jewelry, & decorative home accents. www.facebook.com/Dickinson-Wait-Craft-Gallery-287345965588/
Encore Apparel in Motion-Unique store serving the performing arts community with apparel for gymnastics, dance, cheerleading, skating and theater. www.encoredanceshop.com
Flower Haus-A local floral shop providing beautiful designs for special occasions and unique events. www.flowerhausguys.com
Four Season Books-Family owned and operated bookstore founded in 1991 offering a unique selection of quality new, used, and discount books. www.fourseasonsbooks.com
German Street Coffee & Candlery-Candles, coffee, tea, wine, linens, & decorative housewares.
The Good Shop-New closeouts of women & junior clothing, Flax clothing, jewelry & shoes. www.thegoodshopwv.com
Grapes & Grains Gourmet-Specialty Wine Store with a small selection of chocolates, cheeses, and unique gifts. www.grapesandgrainsgourmet.com
The Local Source-A retail outlet for local crafters and artists to sell their products that deals in fair-trade and eco-friendly goods. We take recycling from our community. The Local Source offers sustainable solutions for everyday life. www.facebook.com/TheSourceWV/
Look in Pop's Attic-Filled with furniture, clocks, jewelry, stemware, postcards and an array of treasures that not only stood the test of time, but are filled with memories of the way It was. www.lookinpopsattic.com
Mountaineer Popcorn-A wide variety of sweet and savory popcorn. www.mountaineerpopcorn.com
The Now and Then Shop-Acountry store filled with all American made things, a lot of which is made locally or by other small businesses. There is also a mix of vintage finds and re-purposed originals that mixes the old with the new. www.thenowandthenshop.net
O'Hurley's General Store-Products that have passed the test of time. Merchandise of fire tools, harnesses, train whistles, crockery, anvils and other traditonal and customary items for your perusal. www.ohurley.com
On the Wings of Dreams-Crystals, incense, books, music, herbs, oils, & jewelry. www.wingsofdreamsshop.com
Shepherdstown Pedal & Paddle-Bike, kayak, and canoe shop offering sales, service, and rentals. www.thepedalpaddle.com
Tonic Herb Shop-Your source for quality therapeutic herbs and botanical products. Our in-house apothecary makes artisanal quality herbal teas, salves and syrups. www.tonicherbshop.com
Up on the Hill-Toy store with quality toys and boutique clothing. Something fun for everyone. www.uponthehilldiapers.com
Village Florist & Gifts-Floral arrangements and gift shop. www.villagefloristandgifts.com
http://shepherdstown.info/shop/other-shopping/ for links and more information.
RESTAURANTS AND CAFES
Bavarian Inn-A romantic country inn offering European elegance and world class hospitality, gourmet dining and guest comfort from its scenic location perched on a bluff overlooking the Potomac River. www.bavarianinnwv.com
Betty's Restaurant-Diner and home of the world's best sausage gravy! A local landmark serving breakfast, sandwiches & hot lunch specials. www.facebook.com/Bettys-Restaurant-home-of-the-worlds-best-sausage-gravy
Bistro 112-A French Bistro with garden dining and martini bar. www.bistro112.com
Blue Moon Cafe-Charming café dining, natural foods, outside dining. www.bluemooncafeshepherdstown.com
China Kitchen-Chinese restaurant. www.facebook.com/China-Kitchen
Domestic-Wide range of American food and drink. www.wvdomestic.com
Devonshire Arms Cafe & Pub-Authentic English café & pub with pastries & famous teas. www.facebook.com/TheDevonshireArmsShepherdstownWV/
The Green Pineapple-Bubble Tea Cafe located in Shepherdstown, West Virginia. Along with Bubble Tea we offer Snow Cream and Asian Fusion www.facebook.com/theverdepineapple/
Kazu Thai & Japanese Cuisine-Authentic Thai and Japanese cuisine and our sushi. www.facebook.com/KazuCuisine
Lelly Bell Cafe-Community café for breakfast & lunch. www.lellybellecafe.com
Lost Dog Coffee-Serious about Coffee, Tea, and Fine Art for over 2 decades. www.lostdogcoffee.com
Maria's Taqueria-Taco shop specializing in quick, fresh, and inexpensive Mex/SoCal influenced food. www.facebook.com/mariasshepherdstown/
Mecklenburg Inn-An English Style pub where locals come to relax and visit and sometimes dance til they drop! Featuring a lovely courtyard for outdoor enjoyment as well as lodging above the bar upon reservation. www.facebook.com/Mecklenburg-Inn-160669058133/
Mellow Moods-Coffee shop featuring healthy, affordable food served in an earthy mellow atmosphere. www.mellowmoodsjuicebar.com
Mi Degollado-Mexican Restaurant www.midegolladowv.com/shepherdstown/4215163
The Press Room-Grilled seafood, meats, pasta & oysters served in casual atmosphere. www.facebook.com/pages/The-Press-Room/232924350050919
Pressed Flour-Miniature bakery with big-time taste. www.facebook.com/PressedFlour/
Rumsey Tavern-Restaurant at Clarion Hotel featuring American cuisine for Lunch and Dinner. www.clarionshepherdstown.com/rumsey-tavern/
Shepherdstown Sweet Shop Bakery-Full bakery, breads, cupcakes, & sandwiches. www.wvbakery.com
Tommy's Pizza-Pizza and sandwiches. www.facebook.com/pages/Tommys-Pizza/205174429506197
Town Run Tap House and Community Pub-Brew pub, art gallery and vintage arcade parlor. www.townruntaphouse.com
http://shepherdstown.info/eat/ for links and more information
EVENTS
April
DogFest-Wide variety of weekend activities for dogs, their owners, and dog lovers www.shepherdstown.info/events/shepherdstown-dogfest
Easter Parade and Hat Competition
May
GardenFest-The Back Alley Garden Tour, Audbon native plant sale, and other activities www.shepherdstown.info/events/shepherdstown-gardenfest/
May Day Parade and Celebration
June
Shepherdstown Street Fest-One day musical festival with artisan vendors, shops, and dining. www.shepherdstownstreetfest.org
July
Contemporary American Theater Festival-A professional theater festival showcasing six contemporary American plays. catf.org
Fourth of July Parade and Picnic
August
Identity Crisis-The Victory Project's premier fundraising event. A night full of dressing up and raising awareness and funds for local annual charity. identitycrisiswv.com
October
American Conservation Film Festival-A showcase of international conservation films with discussions, workshops and family programming. www.conservationfilm.org
Freedom's Run-WV's largest running event through five national parks including full and half marathons www.freedomsrun.org
BooFest-Celebration of Halloween with films, zombie dancing, and trick-or-treating www.shepherdstown.info/events/shepherdstown-boofest/
November
Over the Mountain Studio Tour-Studio tour showcasing the art work of some of WV's best artists & craftspeople. www.studiotourwv.org
November-December
Christmas in Shepherdstown-Weekends between Thanksgiving and Christmas. Celebrate Christmas with carriage rides, shopping, and dining. www.shepherdstown.info/events/christmas-in-shepherdstown/
Christmas Parade
For more information and links: http://shepherdstown.info/calendar-of-events/
OTHER
George Tyler Moore Center for Study of Civil War-136 W German St. (304) 876-6429
Historic Shepherdstown Museum- 129 E German St. (304) 876-0910
Police- 104 King Street (304) 876-6036
Shepherd University- www.shepherd.edu
Town Hall-104 N King St. (304) 876-2312
Jefferson County Tourism www.Information-Discoveritallwv.com, 866-HELLO-WV
For all things Shepherdstown History: www.shepherdstown.info//things-to-do/history
Tara Sanders Lowe, Realtor tarasanderslowe@gmail.com 304-283-8300